Hen Parties in Carrick-On-Shannon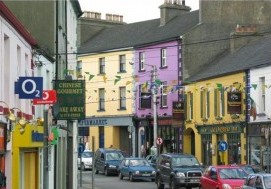 Carrick-On-Shannon is one of the most popular choice of locations for hosting a hen party in Ireland. It is a pretty central location and offers several activities, multiple accommodation choices and some good pubs and clubs. There are several bus and train routes operating in and out of Carrick and it is very easy to get there by car too. Whether you are into some good traditional live music, a more mature late bar or a complete nightclub experience, you can find it all in Carrick-On-Shannon. This Leitrim town offers everything a hen party could possibly want, and all within a very close proximity to the town.
Accommodation in Carrick-On-Shannon
When searching for accommodation for a hen party in Carrick-on-Shannon, you have several options. You can opt for self-catering accommodation with Carrick Central Apartments, The Courtyard Apartments and Carrick Plaza Suites among your best options. Such places will also offer preferential rates for activities and nightlife in Carrick-On-Shannon. They are all modern, comfortable apartment suites and are situated in prime locations, within walking distance of all pubs and clubs.
Your best hotel options include The Bush Hotel – a 3 star hotel, Cryans Hotel – a 3 star hotel and The Landmark Hotel – a 4 star hotel. The Landmark Hotel, offer 4 star luxury, excellent packages and is located right next door to 360 night club. The Bush Hotel is a very popular choice for both hen and stag parties. They offer affordable rates, multiple bar and dining options in house and special group discounts to all guests for activities in the local area. Cryan's Hotel is located right in the centre of Carrick and right next to the River Shannon. It is the perfect location for hen parties planning to take part in the Moon River Cruise or the several water sport activities in the area. There are also a number of guest houses and B&B's available in Carrick at very affordable rates.
Things to do in Carrick-On-Shannon
There are several activity choices for hen parties in Carrick-On-Shannon. The usual cocktail classes, glamour packages and make-up masterclasses are available. Dancing Hen serve the Carrick-On-Shannon area so a number of fun dance classes are an activity option too. The Moon River Cruise (a.k.a The Booze Cruise) is a very popular choice of activity with D.J. and full bar on board during a 90 minute night cruise across the River Shannon. You can opt to book a private screening of a new or old movie at the Carrick Cineplex – a great choice of activity if opting for a film/movies hen party theme.
The nearby Tullyboy Farm offers a hen party experience that you will never quite forget. Catch a piglet, participate in a straw dive, take a tractor and trailor ride, feed the animals and hop up on a pony. Another more extreme activity choice for a hen party includes a visit to Lough Key Forest and Activity Park. Work together to try to conquer the Boda Borg, a unique 47 roomed activity challenge, or participate in the Lough Key experience. Both activity centres are just a short bus ride away and offer an activity fuelled hen party. Other available adventure activities for hen parties include a multitude of watersports and  there is also a paintballing centre nearby. 
Where to eat and drink?
There are many options available for good food and lively entertainment in Carrick-On-Shannon. There are packages available for hen parties which include a tasty 4 course meal in Murtagh's Restaurant and VIP treatment to follow in either their late bar or nightclub. For live music you can stay in Murtagh's Bar, for a niteclub experience hit The Basemnt Club or for DJ music for over 25's, choose the Elevation Bar.
You can also enjoy a group meal at any of The Landmark Hotel's restaurants. This can followed by a complete nightclub experience at 360 nightclub in Carrick-On-Shannon. A good choice of late bar is Dunne's Bar on Main Street. Dunne's offer great live music in the bar and a DJ in their extensive, fully heated beer garden.
If your hen party fancies some Chinese and Asian cuisine, book in for a meal at The Phoenix Court Restaurant. Vitto's and The Oarsman are other highly rated restaurants in Carrick for more traditional food options.
Carrick-On-Shannon is a clear front-runner in terms of hen party locations for many reasons. It simply fits everything that you could possible want for a hen party. It offers great food – traditional and foreign, entertainment venues for all ages and tastes, activities for all interests and affordable, quality accommodation choices.  A great hen night or weekend is guaranteed in this Leitrim town. No matter what age your group of hens are or whatever their interests are, Carrick-On-Shannon can offer a hen party experience that they will never forget.
At DancingHen.ie we offer dance classes specifically designed for Hen Parties.
We travel anywhere in Ireland and we offer a great range of dance styles! Have a look here.
Here are more articles that might interest you:
Top 5 Hen party destinations in Ireland
Alternative Hen Party Destinations
Hen party in Galway