A DANCE CLASS FOR

HEN PARTY

Spice up Your Hen Party with a Dance Class!
Our classes are designed for hen parties.
We will get your group in party mode!
A dance class is an interactive experience and a great icebreaker. Everyone gets a chance to meet and have fun together, it will set the tone for the rest of the weekend.
A perfect start for a hen do!
INSTANT QUOTE
Our Most Popular

Dance Styles!
This is just a sample of the dance styles and routines we have on offer…
Dirty Dancing
Nobody puts Baby in a corner!
Our BESTSELLER. You will learn the Mambo, Merengue and a choreography based on the movie.
Uptown Funk
Bruno Mars choreography is hot! It's got everything you want: it's upbeat, easy to learn, full of cool moves that you will no doubt put to great use in the night club!
Vintage
Vintage is in!
From the Great Gatsby Experience to the Trendy '40s, Vintage offers a wide range of themes and styles to choose from!
Burlesque
Will you dare?
This is not an icebreaker it's an ice-melter!
The bride-to-be might even learn something to spice up her wedding night.
Thriller
Thriller is the most famous dance routine of all time and for good reason!
Challenge yourselves and learn to move like Michael Jackson. Try the Moonwalk, Slide, Spin…
Beyonce
Learn to move like Beyonce with our "Single Ladies" choreography.
The routine is a mixture of Jazz and Hip-Hop, and bound to impress on the dance floor
Swing
There are several forms of swing: Lindy Hop, Balboa, West Coast each as much fun as the next. Depending on your party location we might focus on a particular style.
Disco Divas
A throwback to the '80s, with your favourite music. Remember that song you played again and again on your CD player? We can choreograph it for you. Now that's an idea!
Enquiry not sent? Click
here
Dance Class for Hen Party – What others say:
Hi Paula,
We had an absolutely fabulous time. Sandra was fantastic and put us all at ease while we still managed to learn a lot. We will highly recommend your dance classes!
– Lorraine

Hi Anthony,
It was a fantastic experience and everyone loved it. My daughter Anne-Marie has gone off to try to find Bollywood dancing classes near where she lives!
Jill was great. Very friendly and encouraging and everyone left the room feeling that next stop was the West End! Thank you again and a special thanks to Jill. We were a bit late arriving and she very kindly stayed a little longer with us which I know that she did not have to do.
– Theresa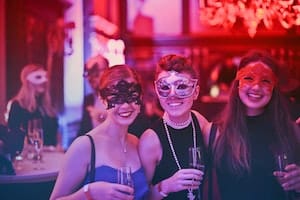 6 Tips to Organise the Perfect Hen Party:
If you're looking to plan the perfect hen party, it's important to start early and get organized. With these six tips, you'll be well on your way to creating a memorable and enjoyable event for the bride-to-be and her closest friends.
Start planning early: One of the keys to a successful hen party is to start planning early. The earlier you start, the more options you'll have available to you. This includes not only the activities you want to do, but also your accommodation, dinner reservations, and more. By giving yourself plenty of time to plan, you'll have a better chance of securing everything you need for the perfect celebration.
Ask about free room rental: When booking your accommodation, be sure to ask if they can provide a room free of charge for your dance class. Many hotels are happy to do this, as it's a great way to attract more business. If your accommodation provider is unable to help, don't worry – there are other options available to you.
Consider the Dirty Dancing theme: If you're not sure which dance style to choose for your class, consider the Dirty Dancing theme. It's a popular choice that's sure to be a hit with the bride-to-be and her friends. The Dirty Dancing Dance Class for Hen Party does not disappoint!
Plan your activities for mid-afternoon: To give everyone enough time to get ready for dinner, it's a good idea to plan your activities for mid-afternoon. This will also give you plenty of time to enjoy your activities without feeling rushed.
Consider a theme: If you want to add an extra level of fun to your hen party, consider choosing a theme. There are plenty of shops that specialise in hen party decorations and accessories, and many offer next-day delivery. Even if you don't end up choosing a theme, it's a great way to get some inspiration and ideas.
Streamline your communication: To streamline your communication process and make it easier to keep everyone in the loop, consider creating a Facebook Event Page or a WhatsApp group. This will allow you to easily share information and updates with the entire group, without having to go back and forth via email, text, or phone calls. Plus, it sets the tone for the Hen Do and helps build excitement for the event.
By following these tips, you'll be well on your way to organizing a fantastic hen party that the bride-to-be and her friends will never forget. Remember, the key to success is to plan early, communicate clearly, and have fun!
REQUEST YOUR QUOTE FOR A DANCE CLASS FOR HEN PARTY HERE:
A Little More About Us
Dancing Hen is a booking agency, we represent the best dance teachers nationwide. So whether you are looking for a Charleston class, a Dirty Dancing experience, or a Beyonce routine we will get you an expert.
Our instructors are not only experts in their specific dance styles but they are also experienced in teaching fun dance classes to hen parties.
Get dance classes anywhere in Ireland from Dublin to Galway and from Letterkenny to Cork.
For more information or a quick quote call us on 087 9799671 or email us at [email protected].
BOOK YOUR DANCE CLASS FOR HEN PARTY NOW
READ MORE...