Organising a Hen Party in Galway.
Galway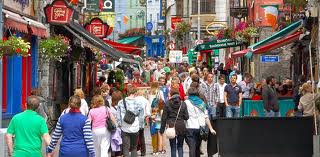 is a vibrant city with great culture, entertainment, shopping and a friendly atmosphere. It is therefore no surprise that Galway is one of the most popular destinations for hen parties. Whether you hop on the train, travel on the bus or carpool up the motorway, Galway is very easy to reach. It is abundant in accommodation choices and activities and is renowned for its excellent nightlife. With so many options, the question is where to stay and what to do when hosting a hen party in Galway?
If it is luxury accommodation that your hen party desires, book yourselves into The G Hotel. It won't come cheap, but your gaggle of hens can enjoy 5 star luxury. For an extra special stay, book into their spa for some hen party pampering. If you are looking for budget accommodation, Sleepzone and Snoozles are two modern hostels based just off Eyre Square. They won't break the bank and are only a stone's throw from the hustle and bustle of the city centre.
For self-catering accommodation for your hen party, check out The Western Apartments. About a minute walk from Eyre Square, they couldn't be more central. They are ultra plush too and have plenty of room for hen party activities. If none of these tickle our fancy, check out The Imperial Hotel, The Meyrick Hotel and The Jury's Inn. All 3 are very popular choices with hen parties in Galway and are all very central.
So now you've got somewhere for your hen party to stay, what activities do you do? Well in Galway, you really are spoilt for choice. Although, with the weather always so unpredictable in Galway, try to pick an indoor activity! Dancing Hen cater for the Galway area so they could facilitate a dance class of your choice. Booty shake to Beyonce, learn the sexy Salsa or be a Disco Diva..and have a giggle in the process. You could also try a cocktail masterclass in the House Hotel and learn how to create a luscious drink from the experts.
For the sporty females, Pureskill provides a fun challenge with a circuit of different sports challenges. Galway City Karting provides indoor karting where your hen party can compete against each other for a coveted trophy. If you fancy a flutter and some good food, you can also include a night at the dogs in your hen party activities. The GreyHound Stadium opens every weekend and is based just outside the city centre. If you fancy a girly hen party activity, pop into one of the many beauty salons in Galway City. Many will organise a beauty masterclass for your hen party before pampering you all for the night ahead. With all that said and done, hit Shop Street and enjoy some well deserved retail therapy. If nothing else, the street entertainers and buskers on Shop Street will keep your hen party entertained.
If your hen party fancy something to eat, you couldn't be more spoiled for choice than in Galway. McSwiggans offer both Irish and World cuisine while Rouge offer fine French dining, Vina Mara offers great food in an exquisite wine bar setting. If you really want to treat yourselves, visit Galway's only Michelin Star restaurant, Aniar. For pub grub, The Skeff and The King's Head are the top choices. And if your hen party is feeling peckish after your night out, be sure to hit McDonaghs Fish and Chips for high quality fast food.
The nightlife options for hen parties in Galway are endless. Although the infamous hen party haunt "Coyotes" has closed, new nightclub options have opened their doors. The Stock Exchange has recently opened on Shop Street and offers a "Sex and the City" style atmosphere. With a different themed bar on each floor, it is already a hit with visiting hen parties. Other recommended nightclub options include Halo, an over-23's venue and The Bentley in Eyre Square.
When it comes to bars, the top choices for a large group are The Skeff, O'Connell's Bar, Monroe's and Kelly's. These bars cater for varied music tastes so there is something for every member of the hen party to enjoy. Start your hen night with some of the fantastic cocktails at The Skeff, otherwise known as The Meeting Place in Galway. Hen parties really are just spoiled for choice for nightlife options in Galway.
Galway definitely gets the thumbs up as a hen party location. It's easily accessible, full of great activities and consistently has a great atmosphere. From budget accommodation to 5 star luxury, go karting to dance classes, cocktail bars to traditional Irish pubs, Galway caters for every type of hen party.