Great Alternative Hen Party Destinations.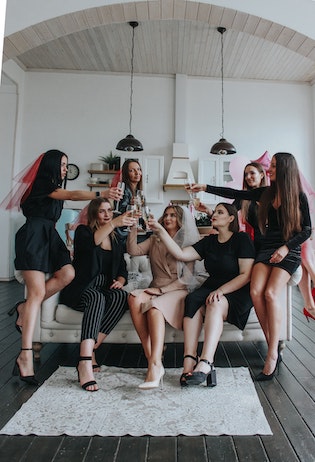 When organising a hen party, you'll quickly become aware of the most frequented locations. Carrick-on-Shannon, Galway, Cork, Waterford, Limerick, Athlone, and Kilkenny spring to mind. But there are more fun hen party destinations in Ireland outside of these select few. It is easy to go along with the tried and tested but how about trying somewhere different. We have come up with 5 alternative hen party destinations in Ireland to consider.
1. Navan
The homeland of Hector in the heart of County Meath, Navan has a lot to offer a hen party. One of the key attractions to Navan for hen parties is the nearby Causey Farm. Offering a unique hen party experience, hens can milk a cow, enjoy a tractor trailer ride and even bog running. DancingHen provides a wide variety of dance classes in Navan and the surroundings area. Navan Racecourse also offers another venture for hens. Dress in your finest and enjoy a day at the races. For sporting activities, Navan offers "The Zone", an activity centre where hen parties can choose from go-karting, archery or paint balling. There are lively pubs, late bars and nightclubs on offer in Navan too. The Piano Bar is highly recommended for hen parties with great live music, late opening, VIP areas and delicious cocktails. The Newgrange Hotel, The Ardboyne Hotel and Bellinter House are but a few of the accommodation options available.
2. Lahinch
This lively seaside town is a great spot for hen parties. Your accommodation options in Lahinch range from tents and mobile homes to B&B's and spa hotels. After a trip to the Cliffs of Moher, your hen party can get down to some breath-taking activities. Surfing, rock-climbing, diving and kite-surfing is just some of the extreme sport activities on offer for hen parties. If those are a little too hectic, maybe your hens can try some pony trekking or mountain biking. To unwind after your challenging activities, hen parties can hit the spa in nearby Ennistymon. There is a great nightlife in Lahinch with several pubs and a nightclub on offer. The Surf Bar is a great live venue with a fun atmosphere and great music.
3. The Aran Islands
Inis Mor may be remote but make another great hen party destination in Ireland. The fun begins in the travelling – either a flight or boat trip awaits your hen party to reach your destination. Enjoy some traditional Irish music in the pubs of Inis Mor. Your hen party can choose from self-catering cottages, budget hostels or bed and breakfast guest house accommodation. Challenge each other to uphill bike rides, visit the historical sites, experience a pony and trap ride or hit Kilmurvey beach. Inis Mor is often a popular choice for hen parties who want to avoid the nightclub and party scene of most destinations.
4. Naas
Naas is quite a central location and is an excellent choice for a hen party. The Osprey Hotel offers luxury accommodation accompanied with a fantastic spa for some hen party pampering. For an extra plush stay, head to the Killashee House Hotel. Other accommodation choices include Lawlors Hotel which is right in the centre of Naas. Time Nightclub and Venue should definitely be your choice of venue. It is one of the most popular nightclub venues outside of Dublin and offers exquisite VIP treatment for hen parties. Activities in Naas vary from off road driving to a trip to the races to farm pursuits and more. Murder Mystery nights, dance classes and Cocktail parties with accompanying master classes are also available for hen parties in Naas.
5. Music Festivals
An up and coming popular hen party idea is that of hosting the hen at a music festival. Whatever music your hens are into, there is a festival to suit. Be it Sea Sessions, Electric Picnic, Castle Palooza or Oxegen, a festival can provide a unique hen party experience. As you brave whatever weather conditions and enjoy accommodation in tents or camper vans, your hen party quickly bonds. Your live entertainment consists of some of the best live acts the world can offer. Any form of fancy dress will fit you right in with the crowd at a music festival. Take a whirl on some carnival rides, get some henna tattoos and bring your own beer. A hen party at a music festival will go down as a unique experience in any hen's memory.
If you are planning a hen party, think outside the box, set aside the norm and try a different hen party destination. It is highly likely that your party will consist of people who are experienced hens and who are tired of the same hen party locations. There are so much more places to consider than the regular few haunts for hen parties. If you really want a fun treat, close your eyes and drop your finger on the map of Ireland. Who knows where in Ireland your hen party could end up!
Read also:
Top 5 destinations in Ireland
Planning a Hen Party on a budget