Planning a Hen Party On a Budget.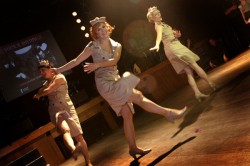 When planning a hen party, we now not only have to consider the activities, location etc. but the cost. While an invitation to a hen party is often met with great excitement, we then can face the embarrassing task of turning it down. Why? Because our bank balance simply just doesn't allow for it. So, the question is, how do we plan a Hen Party on a budget?
Make your hen party a one night affair.
Traditionally, hen parties were always a one night event. But in recent years, hen parties have evolved into "Hen Weekends". A one night hen party eliminates the need for an extra accommodation cost and extra activities. Perhaps you could even keep the hen party within a reasonable distance of where your hens live. You could even offer the option to return home that night. Either way, a hen party should not involve multiple costly train journeys or flights – all that travelling takes the fun out of it!
Don't be too specific with your hen party theme.
"Angels and Devils", "Black and White" and "Bling Bling" themes are popular for many reasons. They don't require expensive costumes, they suit everyone's tastes and still make your hen party stand out. Of course, allowing your hens to don their own favourite outfits, while draped in Hen Party gear is fun too. Sashes, L plates, head gear – you name it – can be purchased in just about every discount store. Everyone gets a laugh from looking so ridiculous – it's all part of the fun of a traditional hen party.
Choose your activities wisely.
You need to choose an activity which will be fun, help break the ice, will suit all ages and yet not break the bank. Extreme sports such as kayaking, zorbing or go-karting may automatically seem attractive. However, will Aunty Mary enjoy going down stream in a kayak? Will the Mother of the Groom enjoy a high speed race around a go kart track? Maybe not! The most popular hen party activities include a cocktail masterclass or a dance class. Why? Well they are a reasonable price and they require everyone to get involved. A few laughs are sure to be had as you attempt to create an expert (or perhaps disastrous) cocktail masterpiece. A few giggles will be had as a group of hens attempt to shake a few moves like Beyonce or attempt some Strictly Come Dancing worthy moves. No doubt these activities will leave you with plenty of conversation for the next hen party activity – dinner!
A nice meal and a few dinner hen party table games.
With large groups, restaurants offer excellent rates and most are accommodating with allowing games at the table. After dinner, when everyone is feeling relaxed and enjoying themselves, whip out some interesting games. Test the bride-to-be with a Mr. And Mrs type questionnaire, or challenge the bride to guess which memory she shared with which hen. A tapas restaurant is often a good choice for a hen party as there is food to suit everyone and the different dishes add a fun element.
Treat your hen party to a VIP area in a suitable bar.
Remember to cater for all age groups. Most bars can offer finger food and bubbly free gratis to hen parties. Invite the entire hen party to try out the dance moves they learned earlier on the dance floor – if you choose to do a dance class. Try a cocktail bar as your venue of choice to discover how cocktails should really be made.
A pyjama party?
Comfy pyjamas, Truth or Dare, lots of sweets and jellies – even dig out your old Dream Phone if you want! Make sure someone packs a music dock to get some of your favourite tunes going. If you can get your hands on a game of Twister, all the better. Laughs are guaranteed with a pyjama party and there is very little cost involved.
You don't have to compromise on fun and activities if planning a Hen Party on a budget. In fact a tighter budget only encourages you to become more creative with your hen party ideas. Cutting the cost definitely does not mean cutting the craic!
By Anthony Auffret
See also:
Top ten Tips on How to Organise a great Hen Party
Top 5 hen Party Destinations in Ireland