Ten Tips on How To Organise a Great Hen Party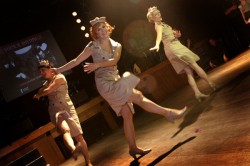 Your best friend is getting married and has asked Yours Truly to be her Maid of Honour. Since it is one of the most important days for any bride-to-be, the title she has just bequeathed you with should be quite an honour. But fulfilling this elite position boils down to more than just holding the bridal bouquet while she exchanges rings at the altar. Yes, YOU have a Hen Party to organise.
Do NOT let the bride-to-be fool you: she may act like it is the last thing she needs, but if you don't make it count, it could be your single biggest faux pas in her starry eyes; one she will never (EVER!) forgive you for. So how do you make it  an unforgettable evening of girls-only fun?
Save the Hen date (early). It would be best to ask the bride-to-be for a list of women that may attend the hen party, along with their e-mail addresses. Remember; you have to move fast as Hens are very busy creatures with few diary openings. As soon as you have a date that suits most Hens, your ultimate task can begin.
Ask your Boss…uhm…Bride-to-be. She needs (WANTS) to be involved. Some want to be very involved, others prefer to be surprised. Whether it is the former or the latter (pray for the latter!), there are some details that she needs to have input into. Include those all-important details, but keep a little extra on the side that she will never expect and which will add a little extra spice to the night.
To invite The Mum/ Mum in law or not. It is a matter of personal preference whether or not to invite  His&Hers Mothers, although their acceptance may want you to think twice about some activities you have had in mind. Not to worry dear; there really is no reason to abandon ship. They may be first-generation mothers, but they have lived through it all. Adjust some timings on certain activities though, just in case one or the other prefers to retire early. Nothing is stopping you from leaving the more serious (?) activities for last.
Location, Location, Location. Do your homework. Shop for the best available prices on restaurants, hotels, bars, clubs, numbers of taxis (for the not-so-perky-after-midnight Hens) and possible activities. It may seem like a tiny detail, but you will thank yourself later.
Assemble the Line. If you feel overwhelmed, there are loads of bezzies you can ask to help you. Never be ashamed or too proud to ask for help. They will be thrilled to do it. Promise. I bet you one of them has a party-trick they always wanted to show off…
Flexibility is the Key to Happiness. Take all prospective suggestions into consideration and try to cater to everyone's taste. Remember the more fun the group has , the more fun the Hen has.  True, you will not be able to completely satisfy every single hen individually, but a little goes a very long way.After all, it is still the Bride's evening.
She ain't got no money in the bank? It is very important that you tell your fellow Hens how much the evening is going to cost them. Believe me, there is nothing more stressful than a Hen pitching up on Hen-Night and not being able to pay her share. You can calculate an approximate value (including the bride-to-be's share) and ask Hens to pay towards this amount gradually. All cash available after the do can be divided equally amongst the Hens.
With Love, from Us to You. It should not be just another night on the town. All attending Hens should be able to provide the bride-to-be with one memory or activity that will mean something to her on a personal level. Other than her Big Day, the Hen-Night will be the second-best thing she remembers. Make it special with loads of personal touches.
Speech! You are the maid of Honour. You organised the Hen Party and put up with everybody's nagging. You still have to at least thank everybody for attending on behalf of the Bride(zilla). Keep it light and quirky. It is a hen party, not a Debutante Tea. Oh yeah; be sure to include The One And Only in your speech, or you will (barely) live to regret it.
Girls Just Want To Have Fun. After all the blood, sweat and tears, the time has finally come to put on those stilettos and relax. Go with the flow of your fellow Hens and enjoy yourself. Just try to hold back on the Vodka and Jaeger bombs until you are sure that everything is running (fairly) smoothly. Bottoms Up!
Anthony Auffret