Hen Party in Waterford – where to go & what to do.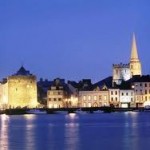 Waterford is an extremely popular destination for hen parties and it's easy to see why! Located in Ireland's sunny south-east corner, Waterford is big enough to have a large selection of pubs, clubs and restaurants to choose from but small enough not to leave you feeling that you are lost in a big city. So to help you make your decision, here are some of the places to check out in Waterford and what you can do there!
Indoor Activities
Our favourite activity is of course dancing. A dance class really gets your group to bond and have great as a group! That's very important because it will make the rest of the night or weekend a run lot smoother and it will be a lot more pleasant if the girls all got to know each other early on  At Dancing Hen we offer a full range of dance classes for hen parties in Waterford. We can get your group to dance Salsa, Dirty Dancing, Burlesque,  Beyonce, Bollywood, Line Dancing, Jazz, and really get you in gear for the night ahead.
Outdoor Activities
For those of you favouring the outdoorsy life, there is a multitude of mountain and lake walks to do in Waterford. You and your hens can take a guided hike up the Comeragh Mountains and visit the impressive lakes at the top. There are many different trails of varying levels of difficulty for you to choose from, each one offering spectacular views of the mountains and their surrounds! Alternatively, you can visit Dunmore East and partake in some sailing, kayaking or windsurfing. Horse riding and trekking for all levels is also available at a number of locations. Such an activity provides your hen party with the opportunity to enjoy a unique view of Waterford. Trek along the banks of the River Suir or enjoy the beauty of the Nire Valley.
Visitor Attractions
There are also many visitor attractions in and around Waterford for your hen party to visit as part of a day-trip perhaps. Firstly, a visit to Hook Lighthouse would make a memorable trip for you and your hens. The lighthouse is the oldest operational lighthouse in Ireland and you can take the trip up the lighthouse's 115 steps to the top to experience some of the breath-taking views of the shoreline. Perhaps a cruise along the River Suir is just what you and your hen need. Sit back, enjoy the wind in your hair and take in all the famous sights of Waterford or just take the opportunity to relax and unwind as you listen to the waves.
Beach & Amusement Areas
Taking a day trip to Tramore is a great way to spend some time with your hens and reconnect with your inner child as you stroll along the beach eating candy floss, take turns on the dodgems at the amusement park or spend some time at a water activity centre. Tramore is also home to some of the best surfing waters in the country so you would be crazy not to avail of a surfing lesson while here. With equipment and surfwear available for hire in Tramore, you have no excuse not to give it a try!
Other Activities
If you and your hens are thinking of taking part in a more extreme type of activity for your hen party, then you should book a session of Laserblast! Laserblast is a live laser tag gun combat pursuit set in a futuristic battle zone, rather like paintballing but with lasers instead of paintballs – and minus the bruises! Guaranteed to get the pulses racing and the hearts beating! What better way to prepare for your night out later on?!
Entertainment
One of the best things about a hen party in Waterford is the vast selection of places to go on a night out.  An especially great night out in Waterford can be had at the local greyhound stadium, Kilcohan Park Greyhound Stadium. Book a table at the stadium restaurant and watch the greyhound racing with your hens. There is certainly something about a dog chasing a stuffed rabbit around a racing track that brings out the primal gambler in a woman! There are also a large number of pubs, clubs and restaurants dotted in and around Waterford city, too numerous to mention, but be assured you will be spoilt for choice!
Accommodation
Dooley's Hotel and Treacy's Hotel in Waterford are very popular choices of accommodation for hen parties and stag parties. Both offer excellent package deals for hen parties and are very central to all good pubs and clubs. The 4 star Fitzwilton hotel in Waterford offers top class accommodation right in the heart if this beautiful city. The Fitzwilton has a lively bar and serves excellent food in their on-site restaurant.
If you choose Waterford as your hen party destination, you can be guaranteed that with such a varied selection of places to go, things to see and experiences to be had, your hen party will definitely have that sought after wow factor! There is surely something for everyone in Waterford which is what you need to make sure that your hen party will be a memorable experience for you and your hens! Yes, Waterford is the perfect spot for that perfect hen party!
At DancingHen.ie we offer dance classes specifically designed for Hen Parties.
We travel anywhere in Ireland and we offer a great range of dance styles! Have a look here.
See also:
Top ten Tips on How to Organise a great Hen Party
Top 5 hen Party Destinations in Ireland